Vanessa is a
Marine biologist,
Science communicator,
Woman in STEM
Keep up to date with Vanessa's work below…
Vanessa's TEDx talk is now LIVE!
Watch below:
Vanessa named one of The Australian Financial Review 100 Women of Influence for 2019.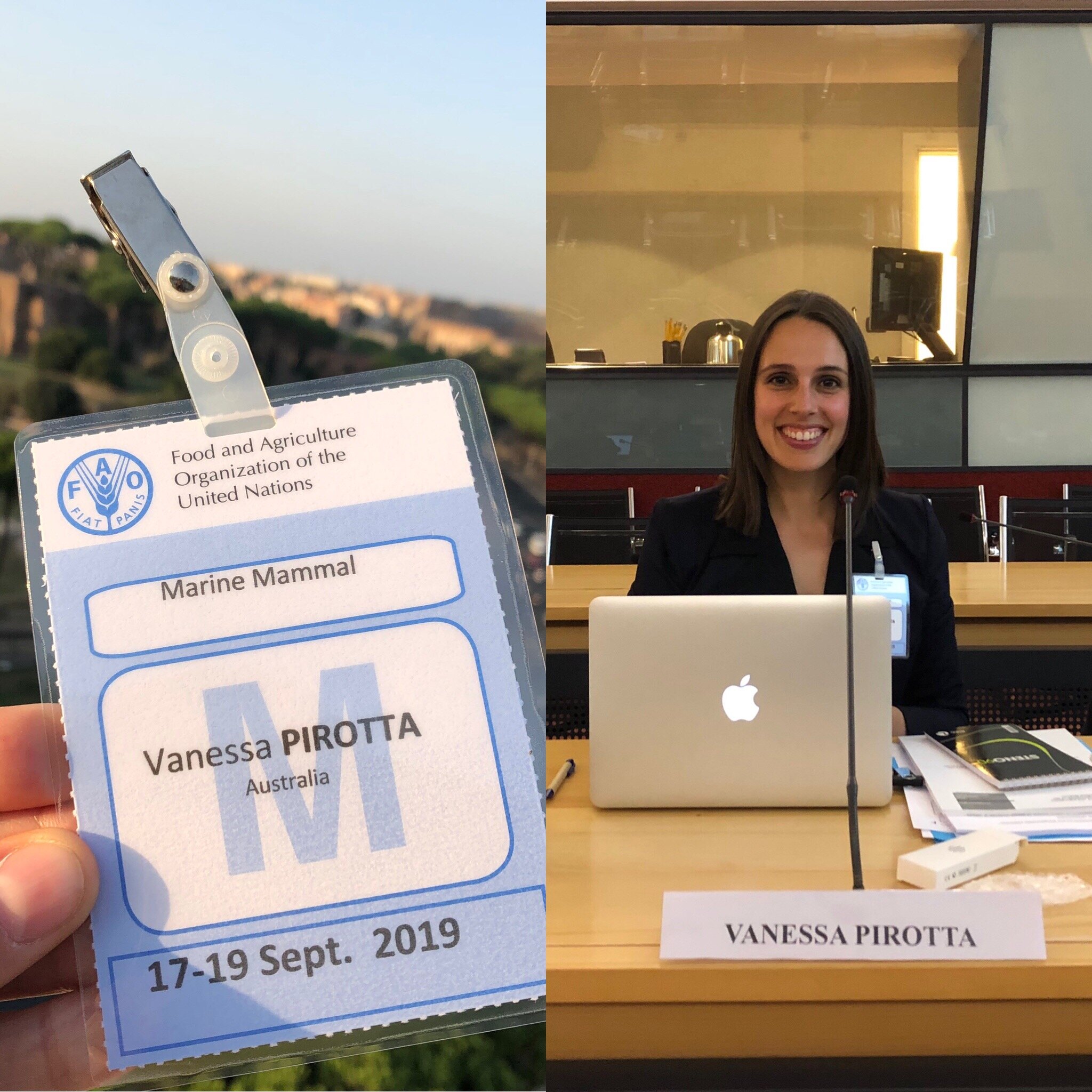 Dr Vanessa visits the Food and Agriculture Organization of the United Nations in Italy.
Vanessa was an invited marine mammal expert at the "Expert Meeting to Develop Technical Guidelines to Reduce Bycatch of Marine Mammals in Fisheries", Rome, Italy.
The Living Room (Channel 10) with Dr Chris Brown.
Vanessa welcomed Dr Chris onboard her whale snot collecting mission. Catch all the highlights below.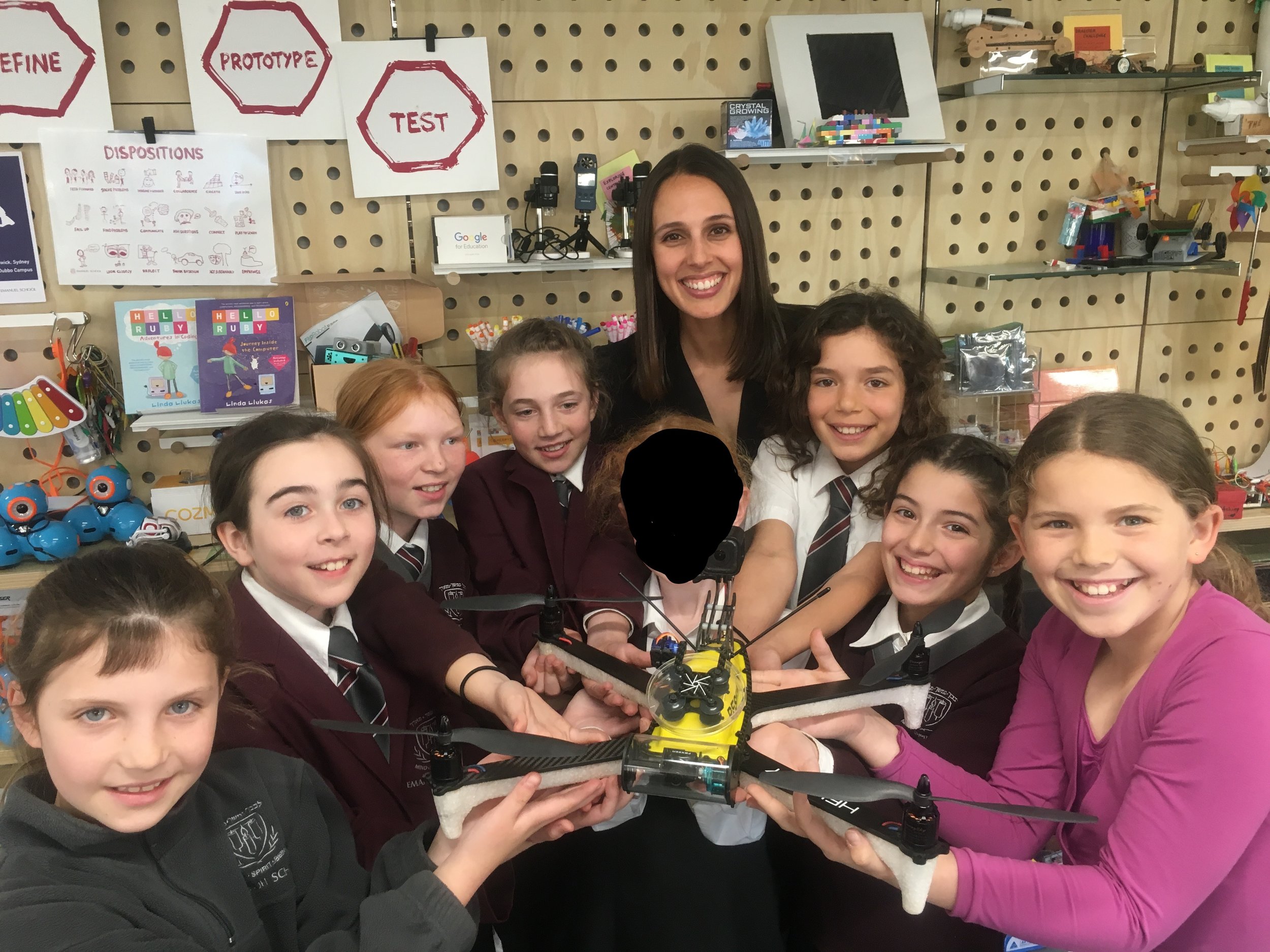 Vanessa spoke to school students about her research. Students loved the opportunity to hold the whale snot drone.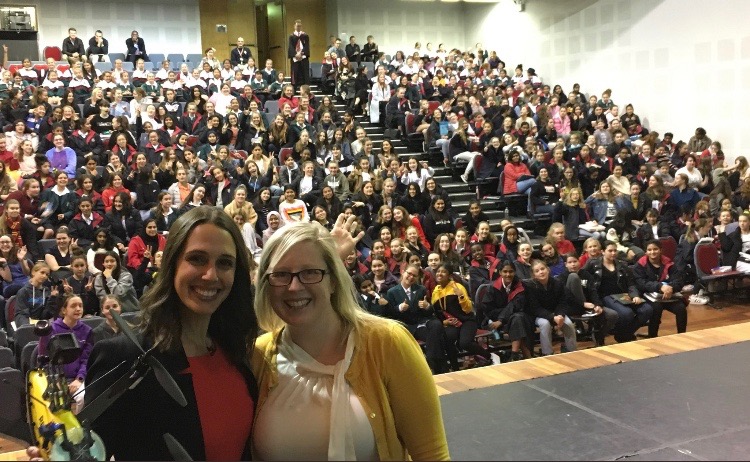 School science communication.
Vanessa spoke with 500 school students from Canberra Girls Grammar School.
Vanessa hit the air with Dr Karl during National Science Week. She answered questions about the marine environment from around Australia. Vanessa even took her drone into the studio!
Vanessa met ocean explorer Dr Sylvia Earle.
This was an absolute thrill for Vanessa. Dr Earle gave Vanessa a high five for finishing her PhD in marine science.
Thanks to the Australian National Maritime Museum.
Vanessa's research voyage to the Coral Sea
Marine biologist in the Coral Sea.
Vanessa pictured here with a dogtooth tuna jaw.
Dr Vanessa listed as one of Whimn's 2019 Power Women
Vanessa's recent science communication:
NBC News America MACH
Vanessa was asked to provide expert comment for the following story: "High-tech thermal cameras could protect whales from deadly collisions with ships" by Jaclyn Jeffrey-Wilensky.
Earth Day 2019 CBS Morning News America
Vanessa's was asked to provide expert comment for CBS News regarding plastic in the ocean.
ABC News
Vanessa provided expert comment for ABC News regarding the 2019 whale watching season and her latest drone research.
ABC Radio National
Vanessa spoke with Hamish Macdonald on Radio National Breakfast about the whale migration off Australia and her drone research.
Sydney Morning Herald/Traveller AU
Five things travel has taught me: Dr Vanessa Pirotta, marine biologist
ABC and SBS World News
Vanessa provided expert comment for both the ABC and SBS World News regarding the beluga whale wearing a harness.
The Australian Museum
Vanessa's makes whale sounds to describe the difference between toothed and toothless whales.
Questacon's Enterprising Australians
Vanessa's research is the latest feature in Questacon's (Australia's National Science and Technology Centre) Enterprising Australians, supported by The Ian Potter Foundation.
Vanessa's interview with ABC television discussing her global shipping research:
Vanessa is a contributing author in the current issue of Australasian Science. Vanessa's article details her latest research discussing global shipping impacts for marine giants.
Summary of research
Doctor of Philosophy (PhD):
Vanessa's focus over the last few years has been cetaceans, which is a collective term for whales, dolphins and porpoises. Vanessa has investigated threats to cetaceans around the world. She has applied theoretical frameworks and created practical applications to change our thinking on how we manage human activities in the ocean.
Vanessa's most well-known research is the use of drones to collect whale snot for an assessment of whale health. Vanessa is also a big advocate for citizen science to assist scientists for wildlife conservation.
Master of Research (MRes):
Vanessa's master of research looked at the use of whale alarms (small sound devices) to try and prevent whale entanglement in fishing gear.
This work was conducted off Sydney, Australia, where Vanessa learnt how to become a whale surveyor using a theodolite. This is a very precise machine placed on top of a tripod and connected to a computer using Pythagoras theorem (yes, high school math is important). Vanessa used it to track whale movements in the ocean.
Bachelor of Science (BSc):
Vanessa studied Zoology and Evolution and Ecology at the Australian National University in Canberra, Australia.
Perks of the job:
Vanessa's research has taken her to some wonderful places around the world including Tonga, Antarctica and Madagascar.
Vanessa is also a passionate science communicator:
Watch Vanessa tell you all about whale snot:
Vanessa's whale snot collection research explained in 60 seconds. This was filmed for the international BBC Earth presenter search.
Follow Vanessa on social media:
The important stuff.
Drone information:
All drone footage collected under NSW National Parks & Wildlife Services scientific licence 101743. Animal ethics obtained via Macquarie University. Licensed Civil Aviation Safety Authority drone pilots used.
A BIG thank you to the following:
Whale snot drone collection thanks to Heliguy Scientific. Southern right whale drone footage thanks to SkyCam Media. Underwater whale footage thanks to Emerald Films and SeaLight Pictures. Thank you Joanne Stephan for the Macquarie University lab video. Thank you SkyCam Media and Australian Aerial Imagery for their assistance filming the BBC Presenter Search video.
Website development- thank you to Cath from the wonderful Catfish Creative!
Portraits by the wonderful Arek Rainczuk from Five Castles Portraits.
Eye protection in the field provided by Maui Jim- thank you!!!